Upcoming: Raluca Croitoru: A language that is felt - Friday 24th November
Upcoming: Raluca Croitoru: A language that is felt - Friday 24th November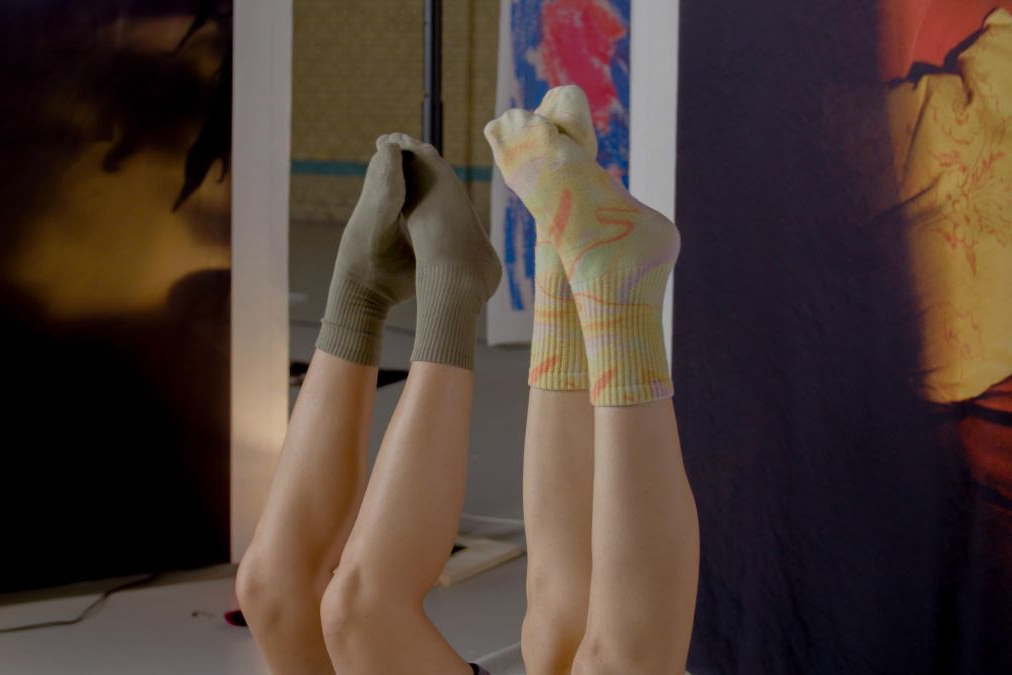 Raluca Croitoru: A language that is felt
25th November – 16th December 2023
Opening event: 6pm, 24th November 2023
WET, Hillevliet 90, Rotterdam (3rd floor – please see below for access info)
WET are proud to present this solo exhibition by Raluca Croitoru. A language that is felt is
the first outcome of a long period of research by Croitoru into depictions of friendship between women. It is also a pilot project for WET acting as a creative producer, offering feedback and guidance throughout all the production stages of a moving image work.
The work presented revolves around the history of friendship as told from a female perspective, riffing on Svetlana Boym's question 'what is the scenography of friendship?' For Croitoru, friendship is a site of political potential, creating the grounds for sustaining life, and nourishing creativity. The genesis of the work lies in research into the changing ideas around the concept of friendship; with a background in performance and movement practices, Croitoru synthesises her investigations into a choreography for camera, asking how the relation of friendship is materially found between bodies through proxies such as touch and gestures, how it takes a unique and fluid form within a given group, and what a scenography could be which enables it. Croitoru's working methods mirror the subject matter, with a dense web of collaborators involved in camerawork, correspondence, prop design and performance of the work. Friendship is treated not as an essential category but a model of inspiration for contemporary relations.
A language that is felt is the first time WET has acted as a creative producer for an artist, involved from early in the project's development through to presentation. With this model, we aim to connect with moving image makers whose work doesn't necessarily fit into a traditional filmmaking schema, but who might benefit from working with a crew, or simply from an extended conversation about their work. The installation presented at WET marks a point in this process, and not necessarily the final form of the work: a public moment which serves as an opportunity for discussion and exchange.
Supported by Mondriaan Fonds and Gemeente Rotterdam
Thank you Myriam Méret, Paulina Vogel, Elena Butică, Adina Orboi and Muse um Concept, Jurriaan Baggerman, Dan Fogarty, Tracy Hanna, Iris Aszalos, Nilgün Demirhan, Roxana Babiciu, Esther Urlus, Lila Athanasiadou, Carmen José, Lili Huston-Herterich, Merve Kılıçer, Yoga Vidya Teacher Training, Maike Hemmers, Sol Archer and Cannach Macbride.
Thank you Schiecentrale and Rotterlight.
Raluca Croitoru (b.1989, Romania) is a Rotterdam-based visual artist and performer. Croitoru uses a multidisciplinary approach that coalesces elements from fine art, choreography and performance. Her practice focuses on embodiment and the interplay of the ambivalent states of activity and rest in everyday work and leisure environments, manifesting in outcomes which include live performances, installations and videos.
Access:
WET is located on the 3rd floor and unfortunately is not wheelchair accessible. The ground floor of the building has step free access via a ramp. There is an elevator to the second floor and a flight of steps to the third floor. Gender neutral and wheelchair accessible toilets are available. Please get in touch if you have any questions about access.